New Muslim Experiences
This section is for the stories of converts to Islam. These stories are of interest to other new Muslims, existing Muslims and those who are interested in Islam. If you have a story to share, please use the form at the bottom of this page
Articles    -    Video    -    Experiences
Articles
Roshni Hafeez
Roshni Hafeez is a Scottish convert to Islam living in Glasgow. Totally blind, she is commited to working with the Muslim community on issues of disability. Hafeez grew up into a devout Christian Family – her grandfather was a scholar and she would study the Bible with him. However. she says that as she grew up she always had "fundamental questions about Christianity", but that "Islam was nowhere on my radar, because I grew up in a family where I was taught that Muslims were the enemy, that Islam was a backward religion for Eastern people that treated women abominably, and I had no interest in it".
.
It was only when Hafeez volunteered to work with an Islamic radio station that she had cause to reconsider. She was struck by the "kindness and generosity" of those that she worked with, and became convinced that they had something special. She speaks of the hesitation that she felt before converting, fearing the obligation of daily prayer and other 'compulsory' acts of worship in Islam: "I was very scared of making that commitment because … I was afraid I would fall short".
.
Since her conversion Hafeez has found freedom in her decision to wear the hijab. "Being visually impaired and totally blind I was always very afraid that I didn't look right, that my image wasn't right … putting on the hijab, or headscarf, took away all of that. Suddenly my looks or lack of them didn't matter any more. I was able to be the person that I wanted to be".
.
Not everything has been rosy, however. Her study of Islam led her to have the highest expectations of how disabled people wshould be treated by Muslims, with dignity and respect. What she has often encountered instead is "a very funny belief that a lot of islamic scholars have in that they seem to assume that if you're a disabled person then you have an automatic insurance policy for heaven.. which is nonsense". Hafeez has pledged to work with the Muslim community to promote the values of Islam that she does not feel are being lived up to, "as long as I am alive".
.
You can see a video of Hafeez talking about her experiences by clicking the image above.
.
Terry Holdbrooks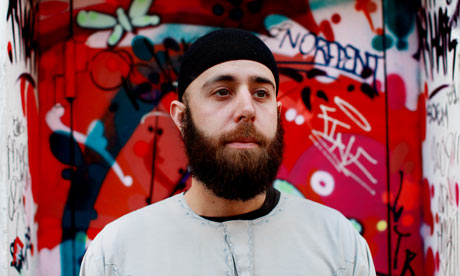 A 19 year-old Guantanamo Bay guard from Arizona, USA, has converted to Islam after befriending the Muslims imprisoned there. The American, Terry Holdbrooks, knew nothing of Islam before arriving at the camp, and began to spend more time with the inmates after becoming depressed by the behaviour of his fellow guards. He said "I didn't have a very high impression of my colleagues," Many of them were "ridiculous Budweiser drinking, cornbread-fed, tobacco-chewing drunks, racists and bigots". His search for morality opened his eyes to the religion of those in captivity, and after six months at the camp he took his Shahadah.
.
.
You can read the full story by clicking here.
.
Video
'how can I have an opinion when this is the word of God?'
An Australian convert gives a highly entertaining account of his journey to Islam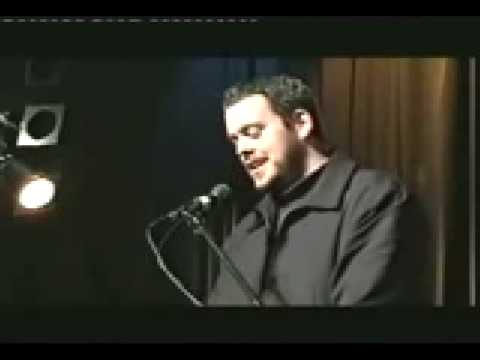 An American convert to Islam explains his spiritual journey.


A Czech scientist explains his path to Islam.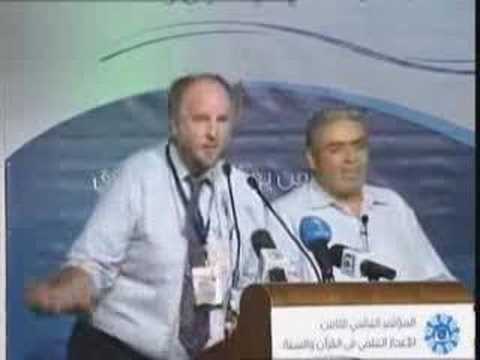 Abdul Raheem Green explains his conversion from Roman Catholicism.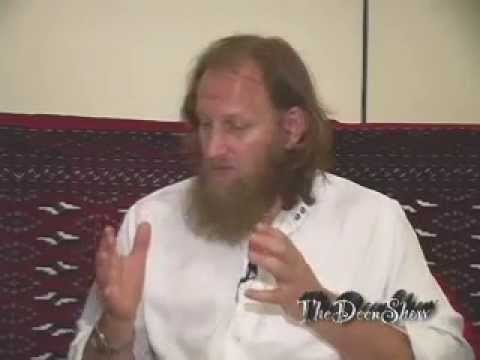 Experiences
Hajar Cham
I was a bit wild when I was younger clubbing, sleeping around, drinking. Every now and again God would come into my mind, I knew what I was doing was wrong but it was fun so I carried on. I met a Muslim boy an he told me some bits an pieces but not much, it was his thing, interestin but that's all. We got married and it was still jus his thing he never told me too much about it, it was jus part of who he was. Anyway I stopped goin out cus I didn't want to cheat on him. We had kids an life was jus going along an then bit by bit it was more in my mind and every day it became more an more. Until it was constantly on my mind, God was always on my mind every minute of every day until I started to dream about God and I had a dream about Jesus. An I couldn't take it anymore, it was drivin me crazy I wanted to say jus leave me alone! But I am sooo grateful that Allah never gave up on me. An even tho I took my time he always tried to push me to the right way. But can I jus say as a white Muslim I am soooo fed up of none white Muslims lookin at me like I'm doin this to keep my husband. There's no way u could pretend this, the sacrifices u make when no-one in your family, friends, neighbours or even village r Muslim an u step out that first time wearin the hijab an they look at u like uve gone mad, u couldn't do that without the trust and love in Allah.
Rachael

I have been Muslims for about 20 years now – it is hard to cover so much time quickly but if I just cover the main issues. When I was growing up I believed very strongly in God, in fact when I was very little I wanted to be a nun, and later a vicar! As a teenager I became aware of other religions, and I thought it unfair when I found out that the orthodox Christian view is that only Christian worship was accepted by God – the people of other religions who were ignorant or misled, no matter how sincere, were rejected. But I myself was happy worshipping God as a Christian, although I did convert to Catholicism as I decided that as God was not an Englishman, having a 'Church of England' did not make much sense – I wanted the original, universal religion! Alhamdulillah – Allah led me to din ul fitra – the din ul wasib – the eternal, primordial, natural religion of Islam.

Well I didn't know anything about Islam when I was young but when I met my future husband we used to have long arguments about religion – he was a Muslim. I didn't want to change and I was also prejudiced against Islam – my image of it was that it was oppressive and not good. But one day I was in Church, and in front of me was the Crucifix, and I had a sudden realisation that Jesus was not the son of God. I was frightened as the familiar comfortable way of life I grew up with was overturned.

I prayed to Jesus to show me he was the son of God – and nothing happened! After that I was at an in between stage where I was not a Christian but that did not mean I accepted Islam either. I eventually became Muslim, after another few years, when I found a Qur'an in a readable edition. I read to the end of surah alBaqara and I knew that it was the truth, I was so happy. I was astonished because the Qur'an talked to believers of different religions, and said that those who believed and did good deeds would have no reason to fear, it said that God would bring us all together and explain our differences. At that point I knew I was Muslim, but I did not know that you were supposed to say shahada, nor did I practice any of the ibada or change my way of dressing much though I did make some changes, for example I did fast and I did start learning Arabic so I could understand the Qur'an. I did try and go to a mosque but I did not really receive any support there so I just went away again and did not go back. I did meet other Muslim also, but I found Muslim culture all quite confusing and alien – although now I feel at home in it.

Also when I was a young person I had decided that I distrusted mystical experiences, because I saw people being carried away in false worship. This estranged me from worship also. So my belief was very much in my head only. Fast forward ten or more years and I was not happy with myself or my situation, I realised it was because I had believed but I had not acted on my beliefs. My state was summed up by the words of the poem by Thomas Hood 'I remember, I remember'

I remember, I remember,
The fir trees dark and high;
I used to think their slender tops
Were close against the sky:
It was a childish ignorance,
But now 'tis little joy
To know I'm farther off from heav'n
Than when I was a boy.

I was so sad because I felt so far off from God, and this was after he had given me the gift of guiding me to the best way of worshipping him and knowing him – Islam.

That was when I asked Allah for help – without his help I would have continued to have been lost. I started really trying to implement my beliefs and to deepen my understanding, so I count this almost as my second reversion/conversion.

Alhamdulillah, this set me back on a path towards the innocent joy of my childhood, when I felt so happy worshipping God.

After twenty years as a Muslim, and about to be forty years old, I am regretful that I have not made a better job of living as a Muslim, but very, very grateful for Allah's continuing kindness to me.
Jasmine

I don't come from a religious family. Religion it seemed meant writing on forms that I was COE (Church of England), I have never been to a wedding, Christening, or Funeral in a church. Both my parents were cremated. So Christianity has never really been a part of my life. I do remember jumping on some bell ropes we were pulling at Sunday school… that's about it. Travelling and living in different countries a lot when younger opened my mind. Like the first time I heard the Azan I was looking out across the Indian ocean at sunrise from a hotel balcony. I wondered what the beautiful sound was. I come from a "showbusiness background" so my upbringing wasn't the norm (but then whose is)…

When I was 9 I lived in a hare krishna temple for a year (I was best friends with the temple President's daughter). I felt happy there. I can honestly say that I thought Krishna was God Almighty Astagfirullah. We would wake at 4am, take a cold shower, dress in silk saris and adorn ourselves with tilok (clay on the forehead) then go and pray (chanting the mantra) over & over until 6am. We would then go and sit on the floor and have the most delicious vegetarian food with our left hand behind our backs, then continue our day.

I was drawn by the cleanliness, marble temple, incense, & food. Most of the devotees were white. They seemed totally devoted with their orange clothes and shaved heads. I loved jumping up and down chanting in the temple room, almost in a daze feeling love for krishna.

I realise now that most of them just wanted to escape the material world. They couldn't take the harsh realities of life. The temple was a sanctuary… anyone, regardless of their past life could live there and not be judged but welcomed with opened arms.

Alhamdulillah I was dragged out kicking and screaming by my mother. I was about to be initiated as a devotee. I was screaming for krishna to come and save me. I always wondered why he didn't! My mother just wanted her 9 year old daughter home again. As the years went by I yearned to feel the way I did in the temple although I never called myself a Hindu. I will cut a very long story short by saying by the time I was about 20 I was at a bad place mentally. I can say that by now I believed in God but didn't follow any religion. I was depressed over some life issues. I wanted to end my life. I had the opinion that life was better on the other side. I didn't like this life. I wanted to be in that nice place now. How could that be a bad thing? I thought. I had my own apartment and lived alone, so it was easily done. I went to the shop and brought about four packs of Anadin and a large bottle of Malibu to rinse it all down with. I sat crying on my living room floor. I looked up and said if there is a God out there please help me because I'm really gonna do this! If there's a true religion in this world show me and I'll follow it 100%. I continued to cry and brought the tabs and drink from the kitchen. I sat on the floor again, ready.

From behind my right shoulder a male voice with no accent said "It's not worth it" I quickly turned around because I thought someone was there. At first I felt a little scared but then I felt a wave of calmness come over me. When I looked down at the drink and tabs it was if I'd completely snapped out of that state of being. I thought what am I doing? I took them and threw it all away.
It was another five years before I became a Muslim. During those 5yrs I studied as much as I could about Christianity, I visited churches in London and tried to remember how I felt visiting churches in Italy previously. I remember thinking that the one in St Marks Square was almost haunted by doom and gloom with statues in cages in dark corners. I attended Buddhist meetings to see what it was all about. I read as much as I could. Nothing felt right.

I then got a few Islamic books from a shop on Charing Cross Rd called al-Hoda. I felt my heart agreeing with what I read. I took a friend to meet and question an Imam at Regents Park Masjid. I was even asking questions about dinosaurs! I found myself agreeing with everything he said. It was natural. I was satisfied in my heart that Islam was the truth. When I first entered a mosque I felt a little let down. No sisters greeted me. Nobody spoke to me. It made me feel a bit uneasy walking into rooms because sisters would just look up. I felt like a total outsider. As a naturally shy person I was put off going to mosques for a long time. By the time of my shahada I was married and felt totally unsupported as a new Muslim woman. I wasn't married to a practising Muslim.

To cut another long story short… here I am 13 years later. I still haven't lived with a practising Muslim, but I'm divorced now so Allah swt knows best. I don't tend to have regrets but I will say that rather than spending the last 13 years reading about adab, the hereafter, marital issues, and everything else… I wish I had just started with Arabic and Tajwid. Certainly I would have felt more at peace from reading the Qur'an properly. So this is something I'm just starting now. My advice to a new Muslim would be: however drawn you are to reading and reading and reading… get a good teacher and memorise the Qur'an with tajwid inshaAllah. Then you won't be among those like me who wished they had started years sooner! Everything happens for a reason. Alhamdulillah who brought us to this deen!

Whatever happens to me, wherever I am, I am happy. Happy because I know all eventualities are from Allah swt. During my marriage I was blessed with three children. I have been given the responsibility along with their father of raising them as Muslims. I am grateful for each breath, I have been given the opportunity to use this life as a ladder to success in the next life… which will be for eternity. I was saved, alhamdulillah.
Ur_Sis

Some people are of the opinion, that if a girl meets a Muslim guy then the only reason she must have reverted is so she could get married to that guy. In my experience that is far from the truth. Ask yourself, who would risk alienating their families and friends, creating a perceived distance between them and their society, reject all the traditions of their forefathers, for nothing?

Not many people would! Even for love! And if it was only for marriage, I'm sure the toll would eventually get too much for them.

Anyway, I digress! Here is my story.

I was born in to a Hindu family, when I used to believe there was one God, and all the different Gods were different forms of this one God. I was a normal British teenager, I was very promiscuous, I went clubbing allllll the time, I dabbled in recreational drugs, I wore short skirts and low tops, and enjoyed the attention I got, all my self worth and value in life came from the response of other people towards me, mainly men. I didn't see any purpose in life, I was looking for something, but I wasn't sure what I was looking for. In my heart I wanted to be a wife and a mother, but didn't have a way to do this.

So as per usual in stories, the girl met a guy. In a pub. Let's call him Mr M, it was the middle of the day and I was having lunch, as was he with some uni mates. He had his own story, but to cut a long story slightly shorter we started going out. Not in a million years did I think I would end up marrying this man.

I had a clingy, obsessive personality, so soon started spending all my time with him, wherever he happened to be staying, in friends' houses, in squats, and him and his friends used to talk about Islam. Their knowledge amazed me, against my hazy accusations that Islam was spread by the sword etc they could tell me all the historical facts, and point me to the Cambridge uni textbooks to back them up. In this period I also had a close friend who was Muslim, and the nature and manner of her mother enthralled me.

So I realised, I had always believed in 1 God, and didn't doubt that Muhammad (s.a.s.) was his prophet. It just seemed natural to me. I found how to revert online, and I learnt kalimah (la ilaha ilAllah Muhammadur rasoolAllah) and I used to repeat it to myself, in bed at night, when walking back from clubbing.

But I was too scared to officially revert, scared of the reactions of others around me. I knew some of my closest friends would never accept it, the people that were always there for me and who had literally saved my life, my family.

And then I messed up and my relationship with Mr M disintegrated under bad circumsatnces. But he had in a way changed my way of thinking, what I thought was normal, for guys to check out girls and girls to check out guys, he had taught me was wrong. It sounds hypocritical I know, he wasn't practicing himself, but some inherent knowledge was in him, enough to change me.

So then about two weeks or so after we broke up I woke up one morning and I just had a vision, a moment of clarity, I could see my life before me soo clearly, it was a fork in the road, on one side was Islam, family, kids, security and everything I desired, on the other side were casual encounters, hedonism, and the life I already had. I got ready, found a dupatta from a lengha I had, and went to the mosque, that I remembered my hubby telling me about when it was being built. But I was to scared to go inside, I thought what if I go in the men's side or something (later they told me there was an office with a door bell!) but I knew it was now or never, and it was something I had to do by myself and for myself. I went to the nearest Islamic shop, and I went inside, and I was shaking so much the women thought I had been mugged or something! And I said I want to say shahadah! I couldn't say anything else, I couldn't wait any longer! And she called the imam, and kept giving me water, lol, and I said my shahadah, alhamdulillah.

Two weeks later I was married to Mr M, and three years later we have two beautiful kids MashAllah, and we are both more practicing by miles than at the start of our marriage. In fact I told him, I am marrying you so you don't go to hell, because I could envisage the same forked path for him that I had seen for myself.

There is soo much more I could say, but I've said enough for now!

salaam walaikum
Dean

I was never a lost soul seeking salvation. The few experiences I had of religion in my youth left me neither interested nor disaffected, merely indifferent. I had fond memories of trips to Church with my primary school, but in retrospect this was more to do with the impressive architecture and the ambitious claims of the vicar than it did with believing in what I heard there. My mother raised me to think for myself, and it honestly never occurred to me to think about religion until I had flown the nest.I arrived at university full of expectation, optimistic that I would discover all manner of fascinating opportunities and knowledge that would satisfy my mind. I studied the literature of the western world, and absorbed myself in all the activities of student life.

What a disappointment. Far from seeing my small-town eyes opened up to the possibilities of city and university, I was left cold. I had always imagined that there was knowledge and meaning in life much greater than I had conceived; instead I found a design for life that is busy and rich on the surface, glittering with the wealth of the modern world, but vacant and aimless underneath. I lost all enthusiasm for life, all but stopped attending lectures, and withdrew into a hermetic depression.I had such wondrous hopes for philosophy that it was with great disappointment that I had to admit that it was useless and to consider religion, as a last resort. I expected to find nothing but empty ritual, baseless faith and alien practices.

For the most part, I did. There's no point in naming them, but I went through the major religions dismissing them quickly as I found contradictions, a lack of believable provenance and generally little to inspire. Lastly, I came to Islam, a religion of which I knew nothing.First impressions weren't encouraging. The literature featured more images of people in strange clothes with inaccessible names, and the recent occurrence of "9/11″ hadn't done much for Muslims' global public image. I thought I'd give it a fair shot though, and read eveything germane in the library and acquired a copy of the Qur'an. It's hard to find the words to describe what happened next. I went through a process where, through highly sceptical eyes, I absorbed the key facts and principles of the faith without finding anything to object to or disagree with. It was almost as though the morals, ethics and beliefs that I had idealised before were crystallised into my own personal religion. Everything is there: convincing proof that the Qur'an and sayings of the Prophet Muhammad (peace and blessing be upon him) were recorded accurately and preserved fiercely, interpretation of these sources by the scholars that is both accessible to the layman and possessing of the most powerful spiritual and existential wisdom, and a comprehensive 'design for life' that is so logical and wise as to command the most serious consideration and contemplation from even the surest atheist.Reading the Qur'an is an experience of great gravity. For someone irreligious to come to believe that a book contains the word of the creator of the universe, verbatim, is a moment that changed my life. Reading it is to have it reach into your soul and activate truths and feelings that were dormant and vague, to feel that you have awoken from a deep sleep to see the world in its real form for the first time.

The rest is history, a collection of details and faces. The thing that kept me keen to know more when I had moments of doubt more was the unfailing warmth and openness of every Muslim I met. I had become quite a misanthropist by the time I finished university, sick of the selfishness, superficiality and brutality of most that I met. The Muslims I met were a revelation in themselves, unfailingly generous, kind and intelligent. Surely a people who live in such a way are rightly guided! I certainly found it intoxicating, and spent more and more time with them to find whatever it was that they had that gave their lives such harmony and purpose. Over time, I found it: faith.
Ryan Barwick
I am Ryan Barwick, from Australia. I live in Gold Coast, Queensland. I am 25 years of age (almost 26), and I have two siblings. An older sister (27) and a younger brother (24). I am a student currently, studying Bachelor of Computer Games, a course that is mainly about publishing and marketing, and games journalism. At the age of 5, my family split up (i.e. mum and dad separated). This was due to reasons I won't go into here, but let's just say it was for the better. I was raised in a Catholic Christian family, and had always attended Catholic schools. For me, this was an issue of concern. Because every week we had Religion class, and we read bible, and whatever, but every time I asked a question for clarification, I was pretty much told to stop interrupting, and be quiet. It got to the point in 2000, where I was extremely curious about "my" religion (or the one that my parents had given me), and I really wanted to know more. So I started asking more questions in class, only to still get no answers. Eventually, the teacher kicked me out of class for being a "trouble-maker", which I assumed was because there was no answer in Catholicism for my questions. So from that point, I considered myself an agnostic (i.e. I still believed there was a God, just didn't claim to be part of any religion).

It was September of 2007 when I finally came into Islam. So it has been just over 2 years now that I have considered myself a muslim. Before Islam, I was many things. Since I finished school (in 2000), I was a major computer game addict until about 2002, then I became a heavy marijuana smoker. I smoked large quantities of marijuana every day, until 2006, when I finally decided that my life was going nowhere, and I wanted to achieve something with my life, instead of always being "high" and doing nothing with my life except buying more marijuana and smoking.

Before Islam, I did not know much about it. My first exposure to Islam was when I visited Malaysia with my mother in 2000. I didn't really learn anything about it at the time though, but I saw a lot of women in Hijab, and from my opinion, they looked very respectable and attractive (I was 16 at the time). So in 2001, when the 9/11 incident happened, I heard of Islam again. And I could not believe in my heart or logically in my mind, that any religion would promote these sort of actions. So I started researching Islam a little. In 2003, when the United States decided to enter Iraq to find the "Weapons of Mass Destruction", I was angered. Firstly, because I felt it was a hypocrisy that the western countries are allowed WMDs but no-one else is. Secondly, I felt angered because of all the people they were killing. I could see that the muslims in this place, were just trying to live their life peacefully, but were not being allowed this. So again, I started researching more into Islam. In 2006, around the time I stopped smoking marijuana, I became heavily involved in online forums on a site called Zorpia. Here I found many discussions about Islam, with majority of these being hate-filled western misconceptions. So I attempted to participate and inform people of my beliefs of Islam (from what I had researched). It turned out that people were unwilling to listen, and kept quoting lines from "supposed Qur'an". So, at this point I had not read Qur'an, and I had a friend from that site from Pakistan, who was a Muslim. So I would ask his advice regarding these supposed quotes from Qur'an, and I found that pretty much all the quotes these people were giving, were false. So I went and bought my own copy of Qur'an, and sat for a few weeks, reading it little by little. When I finally had finished reading, I came to the realisation that everything I had read, was exactly the same beliefs and morals that I had always held to be true (ever since I was a small child). After this, I had a friend die in early 2007. This was pretty much the moment that I decided I needed to get in touch with God, for life is finite and possibly short (this friend was only 17). So I thought, with all the things I have done in my past (good and bad), I needed to start getting closer to God (Allah) in order to seek forgiveness for these things. So I contacted my friend in Pakistan again, and we started discussing Islam on a regular basis. Started discussing the scientific proofs that are contained within the Qur'an (which have been proven to be true by science), and then I finally told him that I want to convert. He informed me that it is really "revert", because in Islam we believe that everyone is born Muslim. But he taught me Shahadah, and I said it that same day (at home) from the heart.

Regarding my beard, I have pretty much had one since I turned 18. I have shaved it occasionally, when it got too long and started curling and whatever. I have always believed that a beard is what separates a man from a boy. There is a saying (think it might be an Australian saying) of "Real Men Have Beards". Not sure where I heard it, but I always agreed with it. Also, when I found out that it is Sunnah (or the way of the Prophet (salAllahu alayhim wasalam)) to "trim the moustache, and let the beard flow", I straight away removed the moustache and stopped trimming my beard. This was approximately 6 months ago, masha'Allah. Also, I do quite like the saying "A Man without his Beard, is like a Lion without his Mane".

Since I have reverted to Islam, I find no difference with the way people interact with me in general. This could possibly be related to the fact that I am a typical looking white caucasion, although I do have the beard and no moustache. Many times I have been asked if I was a Jew, or an Amish (a very traditional Christian religious denomination) person, but I have corrected them and said I am Muslim. The main thing I notice when people find out that I am Muslim, is extreme surprise in their face. Like the surprise of disbelief (i.e not believing that I am Muslim). But other than that, I have had no negative experiences or difficulties with dealing with everyday people. When I told my family that I had decided to revert to Islam, and had done so already (it was about 2 months after I did that I told them), their expression was again one of disbelief. My mother did not believe me, but then she started thinking it was a "phase" I was going through. Eventually (after more than a year), she has come to the realisation that it is indeed not a "phase", but she has accepted it as my choice to make, and as such she accomodates for this (e.g. by not cooking haram foods, etc). My brother and sister did not believe me, and eventually when they did, they just said "well if that is what you decide to believe in, then so be it".

When I informed my close friends that I had reverted, I had a few issues. My close friends count as a group of about 10 from my old hometown (where I lived from 15-20), and there was a local group in my current town (of about 5 friends). Now the 5 friends that I had locally, I had major issues with. They got angry at me and wanted to fight me, because I had pretty much given up all the bad habits that they were involved in, and no longer was supporting their bad habits (both financially and morally). So this group of "friends" were pretty much left to continue their lives on their own. My other group of friends (from old hometown), I had minor issues with, but nothing negative. I had issues convincing them that I had reverted. They believed I was just joking, and took me quite a while (over a year) for them to understand I was serious. But they have accepted this (except maybe 1 or 2 who still think I am joking).

To an extent I have been in contact with other reverts, but only via online forums, and the likes. In person, I have yet to meet another revert. I would classify myself as an attempting-to-practice muslim. I am still a bit "foggy" on certain practices, however I try to practice everything that I know or have learned. I had a few issues with bringing myself to masjid, as I suffer from a quite extreme anxiety disorder. However, today (20 October 2009), I made my first step to masjid, for fajr prayer (the first prayer of the day). Masha'Allah (as Allah has willed). I hope that this can be the start of a long career of walking (or running even) towards Allah, insha'Allah (if it be the will of Allah).

For the Muslim readers, I would like to say Shoukran (thank you) very much for the acceptance into the Ummah. And for all the guidance and help you have all shared with me over the years. Jazak'Allah khair( May Allah grant you goodness ). For the non-muslim readers, I would like to wish you the best of this world and the next, and hope that you too can find true guidance to the path of peace, insha'Allah (if it be the will of Allah).

For everyone:

Assalamu alaikum wa rahmatullahi wa barakatuh.
(May the Peace, the Mercy, and the Blessings of Allah be upon you)
---